employees?
products?
rules?
systems?
customers?
changes?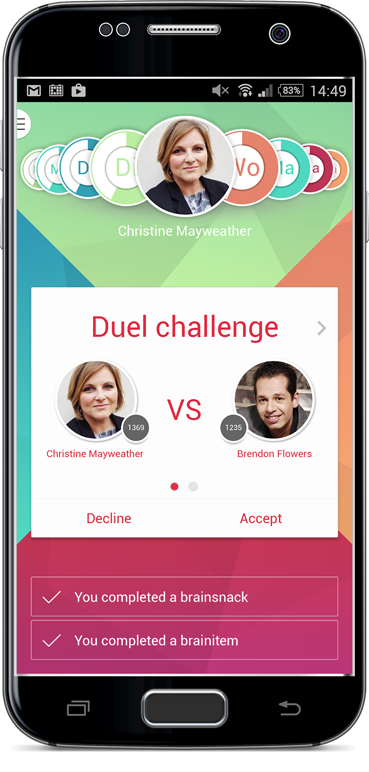 PowerApp
The smartest way to improve.
With the PowerApp an organisation is always up to date. Knowledge is presented in short bursts at individual user level in a smart, efficient way. With the PowerApp you can learn anywhere and at any time.
We make this possible with
Spaced repetition

Studies show that knowledge sinks in best if you repeat it with the right regularity. The PowerApp algorithms repeat each learning objective for each user at the right time.

Microlearning

The PowerApp presents content in short bursts. If you are free for 90 seconds, you can learn something new. Not only does this provide for attractive, low-threshold learning activities, it is also the perfect fit for a busy schedule.

Ownership

With the PowerApp you can decide where, when and for how long you are going to learn. Employees are therefore themselves responsible for keeping their knowledge up to date. The PowerApp helps them do this, for example by providing continuous information on their progress.

Gamification

The PowerApp challenges you, makes you curious and rewards you; a good mix for sustaining motivation and attention over a long time span. In addition to individual learning, there is the possibility for example of challenging colleagues to a knowledge duel.
Everyone, always, up to date
Personal material

The PowerApp presents the course material that is current and relevant to the employee at that time. The material adapts to the employee's personal profile.

Continuous information

The dashboard displays the topics relevant to the employee. He can see his knowledge level for each subject at a glance.

Challenge colleagues

By challenging each other to a knowledge duel employees are motivated to keep their knowledge up to the mark. The scoreboard shows who has their knowledge ready fastest.

Add content quickly

The flexible management system allows administrators to add new course material in no time at all. In this way the organisation can easily respond to new developments and the content remains current and relevant.

Link content to target groups

Easily link content to target groups. In this way everyone is presented with exactly the content applicable to him or her.

Management reports

Activity and progress reports provide information on the use of the app and the progress made by users. This makes it easy for the organisation to demonstrate what knowledge is available and to adjust it quickly.
For and with our customers

Our customers consider it important for the PowerApp to keep up with new wishes, so we continue to develop it in conjunction with our customers.
All the stakeholders have a chance to meet each other at Bright Alley at periodic steering committee meetings; a time to share experiences and decide which new features are at the top of the wish list.
"I am very pleased with the PowerApp. It really keeps you sharp and informs the users regularly while still being time efficient to keep employees up-to-date."

~ Caroline de Vries, Astellas
How do you learn with the PowerApp?
Knowledge is presented automatically and personally and repeated using a special algorithm
Knowledge items based on learning objectives
Scores automatically fall back again if subjects are not repeated
Duelling: employees can challenge each other to a knowledge battle
Four kinds of knowledge items: multiple-select questions, multiple-choice questions, poll questions and brain snacks
Support for images and YouTube or Vimeo videos for all knowledge items
Automatic notification emails
Intuitive management system for the fast addition of new knowledge items
Management reports in Excel format
Look & feel adapted to corporate colour scheme
Automatic linking to external systems for synchronisation of user data
Self-activation by users via a URL possible
User groups for the smart assignment of content
The latest version of the PowerApp is always available as an SaaS solution
Multi-language content support
The PowerApp is available in five languages and can quickly be expanded to other languages
Stakeholders discuss their experiences and wishes at periodic meetings
Support platform & help desk
Management system training
Employees can give each other feedback on competences with a special module in the PowerApp
Fully adjustable password rules
Conforms to OWASP security guidelines
In the development fase we work with a reputable security partner (Securify B.V.) that frequently checks, uses threatmodeling (technical risk analysis) and defines the security requirements. By proactively checking and advising a safe product is created from the start (Build Security In).
We know like no other that the success of a learning tool stands or falls by strong content.
Not only does Bright Alley offer the PowerApp as a service, we also have all the experts in-house to fill the PowerApp with didactically strong, attractive content. Our educationalists set learning objectives in conjunction with knowledge experts from the organisation and write stimulating questions and brain snacks. Our experience with the PowerApp and principles such as spaced repetition and continuous learning ensure the organisation is quickly up to date.